Peach Springs is situated within the Hualapai Indian Reservation. It is a trading center and headquarters for the Hualapai Indian Reservation. It is located on Historic Route 66, America's "Mother Road," north of Interstate 40 between Kingman and Seligman.

Peach Springs got its name from the peach trees found growing by the spring here. The steam locomotives of the railroad used water from the spring and a water tank and station were built by the railroad in the early 1880s. The railroad called it Peach Springs.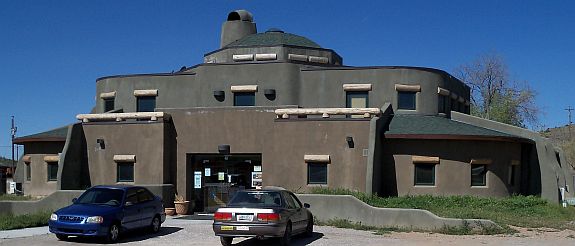 Hualapai Cultural Center in Peach Springs on Historic Route 66
888 West Highway 66, Peach Springs, AZ 86434
You can learn about the history of the town and discover the Hualapai Tribe's cluture and tradions at the clutual center.The Hualapai are an ancient people with a revered heritage living lightly on the land, Hualapai means People of the Tall Pines. The population of Peach Springs is about 800 and the elevation is 4,788 feet above sea level.

Peach Springs Canyon offers the only road into the Grand Canyon on the reservation from Peach Springs, Diamond Creek Road. The tribe maintains the road allowing conditional access by car or truck and issues sightseeing permits.
The town of Peach Springs Arizona is a small portion of the Hualapai Reservation. Twelve hundred people live on the 995,000 acres of this reservation serving the Hualapai tribe, an enormous developing land mass.
The reservation is mostly rolling hills, rugged mesas, forests,breathtaking cliffs and deep gorges along 108 miles of the Colorado River and the Grand Canyon. The Colorado River bounds the northern edge of the Reservation.

The Hualapai Reservation offers hunting, fishing, hiking and camping facilities. An outdoorman's paradise, Hualapai Wildlife Conservation sells big-game hunting permits for Desert Bighorn sheep, trophy elk, antelope and mountain lion.
You will also find white water rafting, guided jeep tours, and the Grand Canyon Skywalk. The Skywalk is not located in Peach Springs, it is located at the northwestern part of the reservation.
For people coming out of Las Vegas, the best access is to use Pierce Ferry Road off US 93. For people on I-40 the best route would be to take Stockton Hill Road north from Kingman, I-40 exit 51.