National Old Trails Road, also known as the Ocean-to-Ocean Highway, was established in 1912, and became part of the National Auto Trail system in the United States. It was 3,096 miles long and stretched from New York City to California. The alignment followed earlier Indian trails, wagon roads, railroad tracks and, in some cases, new construction.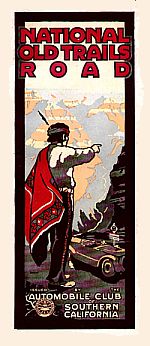 Auto trails were usually marked and sometimes maintained by organizations of private individuals. The Automobile Club of Southern California signed the western half of the road in mid-1914.
Trails were not usually linked to road improvements, though counties and states often prioritized road improvements because they were on trails.
In the mid-to-late 1920s, the auto trails were essentially replaced in the United States with the system of numbered U.S. Highways. In Mohave County Arizona the National Old Trails Road was a forerunner of Route 66.
There are several place where you can still find traces of the Old Trails Road. In Kingman there is a short section of the road. This is a dead end road, but well worth the trip back there.
If you enjoy train photography this road has many vantage points to shoot trains headed in either direction. With close to 100 trains a day you don't have to wait long for a train to go by.